Resources to help your child at home or school
There are two ways to purchase the digital resourcse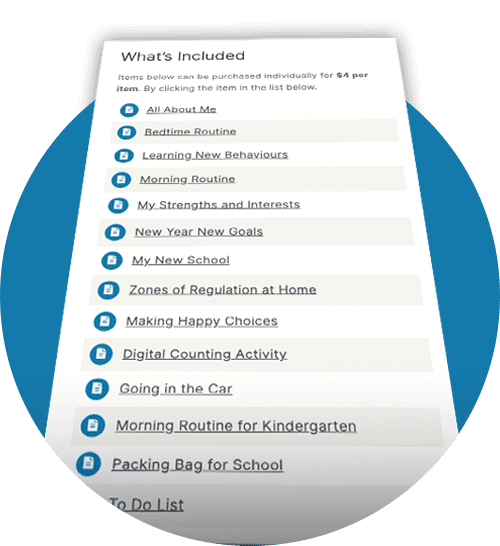 Support Bundles
Purchase a bundle for $45 which includes a variety of useful downloads and templates to help you and your child.
School Readiness Program
Overview
Transitioning your child into kindergarten can be overwhelming. I have created the resources to support your child to have a smooth transition into their first year of school. The resources offer support across all areas of communication with the school, skill development, routines, goal setting, strengths and interests, and social stories.
Start off with the 'All About Me' resource to ensure that your child's teacher understands their specific needs within the classroom environment.
Purchase these resources today and kick start your child's journey to kindergarten.
Social & Emotional Regulation
Overview
Supporting your child to understand their internal emotional state is the first step towards increasing their social and emotional independence. Our visual support templates will increase your child's skill development and reduce parental frustration.
Supports for daily life skills such as teeth brushing and getting dressed are just the start of our extensive range. Our evidence based supports can improve the communication between home and school, ensuring that your child's emotional and academic needs are catered for in their learning environment.
Tailor these resources to suit your child's needs and watch them flourish.
Zones of Regulation
Overview
At Mummel Road, we are specialists in teaching children how understand their emotional state and how they can regulate their emotions each day. We have put together practical strategies to support your child as they develop an understanding of their feelings and emotions. Mummel Road offers parents practical and easy to use resources to support their child with their emotional regulation.
The Parent Zone
Overview
Welcome to the Mummel Road parent zone. Here, you will find the helpful and easy to use resources to guide your parenting journey. The parent zone will offer you ways to improve your own self-care, while also guiding you on ways you can support your child with their learning and behaviour at home. The parent zone offers you guidance on how to communicate with your child's school to ensure they are receiving the support they need.